Planning Your Pool
Good pool planning is as important as the selection and installation of the pool itself. Before purchasing an above ground pool, please review the following helpful information:
To determine the best size for your yard:
Contact Boro or township:  Before selecting pool size, contact your local authority and ask them for their permit requirements. You will need to know the setbacks (distance pool must be from property line and house), fencing, and ladder requirements and of course, the cost of the permit.  We will be happy to help you fill out the forms.
Review the size charts:¬† Taking into consideration the 'Äúsetbacks'ÄĚ, consult the size chart that accompanies each pool shown here. Then come visit our show room where an experienced staff will help you make the best choice.¬† Note that above ground pools come in three basic shapes:¬†round, oval and rectangle
Now that you've selected the size, outline the pool in your yard with string or the garden hose then stand inside the outline and see if it's big enough!
Pricing:
(FINANCING AVAILABLE)
We do not post pricing on this site because of the variety of pools and features that are available. For example,  you may order the pool and filter package only or with fencing and deck, stairs or  ladder etc.  We know our pricing  is very  fair and reasonable  based on the many satisfied customers we've served over the past 30 years and by the amount of  referrals we continue to receive.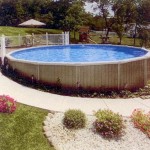 Besides the many features available,¬† price is also determined by the shape¬†and size pool you select. ¬†Round pools are the most economical¬† because¬†they do not need the ¬†structural support that oval and rectangulars require.¬†However, many pool owners select an oval shape because it more closely¬†resembles an in-ground or the oval fits their yard better. All of our pools are¬†52'ÄĚ in height but certain models may be ordered in 54'ÄĚ
Our typical pool package includes a Hayward filter system (over sized), winter cover, ladder, thru-the-wall skimmer, vacuum equipment, a month's supply of chemicals, test kit, thermometer and free delivery. Pools may also be ordered with in-pool light, automatic cleaner, drop in stairs and a heater.
To obtain a written quote, please visit our Media store. A qualified,experienced sales person will  be happy to help you find the correct size pool and price out your selection.  Financing is available.